Purpose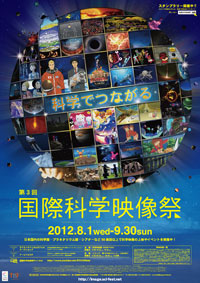 The chance that we see it is limited though a lot of science and technology images are invented every day. It wants to offer the chance to introduce good quality science image contents widely, and for a lot of people to see, and to share the surprise and impression on the science by you.
'The 3rd International Festival of Scientific Visualization' is additionally held as people's information exchanges related to contents and technological development and science image creator's outlets.
Let's discover the science image and, on this occasion, discover "See", "Feel it", and happiness.
Date
1 August - 30 September, 2012
Venus list

More... The 3rd International Festival of Scientific Visualization
The Hokkaido University Museum
Koriyama City Fureal Science Center
Science Museum
Chuo City Time Dome Akashi
National Museum of Nature and Science Theater 360
The Planetarium Theater "GALAXY"
Katsushika City Museum
City Sumida Lifelong learning Center, Tokyo
Konica Minolta Planetarium "Tenku"
National museum of emerging science and innovation
Suginami Science Museum
Konica Minolta Planetarium "Manten"
Itabashi Science and Education Hal
National Astronomical Observatory of Japan 4D2U Theater
Kyodo no Mori Fuchu City Museum
Tamarokuto Science Center
City hachioji sciencedome
Higashi Yamato municipal native museum
Kawasaki Municipal Science Museum
Sagamihara City Museum
Shonandai Culture Centre Children's Museum
Hiratsuka City Museum
Chiba City Museum of Science
The Shiroi Communioty Cultural center Planetarium
Chiba Museum of Science and Industry
Tsukuba Expo Center
Hitachi Civic Center Globe Theater
Saitama Municipal Youth Astronomical Museum
Saitama city Space Theater
SKIP City Audio Visual Library
Sayama City Chuojidoukan
Takasaki Youth Science Center
Gunma Science Museum
Cinema THEQUE Takasaki
Yamanashi Prefectural Science Center
DISCOVERY PARK YAIZU
Laforet Hotels & Resorts Biwako
OSTEC Exhibition Hall
Osaka Science Museum
Higashiosaka Children's Culture and Sports Center
Koriyama City Fureal Science Center
Kyoto Municipal Science Center For Youth
Kobe Science Museum
Itami Children's Science Museum
Himeji City Science Museum
Nishi-Harima Astronomical Observatory
faundation of Shimane Nature and Environment
Hiroshima Children's Museum
SANUKI KODOMONOKUNI
Astamu land Tokushima
Ehime Prefectural Science Museum
Okinawa Institute of Science and Technology