Dome Festa
Sept. 26, Sunday: Open for general public
Location: Planetarium Theater (23 m in diameter, 280 sheets)
9:00-17:00 Planetarium Programs, seasonally presented by Kyodo no Mori Fuchu City Museum and some special programs included Not decided in details yet
Sept. 27, Monday: 9:00-18:00 Registration Required
Location: Planetarium Theater
9:00-

Participants Registration

9:20-10:20

Invited Keynote Speech and Dome Show:
Dr. James Sweitzer; Earth Science in Planetarium
Dome Show "Fragile Planet"

10:20-12:00

Dome Feature Shows

12:00-13:00

Lunch Break

13:00

Group Photos

13:10-14:20

Invited Keynote Speech and Dome Show:
Dr. Carter Emmart; Ten Years of Dome Presentation from Data Visualization
Dome Show "Journey to the Stars"

14:20-18:10

Dome Feature Shows, Trailers and Clips (Professionals and Students)
Location: Lobby and Hall
10:00-17:00

Exhibits and Portable Domes
18:15

Buses leave to Ookunitama-Jinjya
Location: Ookunitama-Jinjya (Shinto Shrine)
19:00-21:00

Dome Festa Banquet
Sept.28, Tuesday:
9:00-17:00 Registration Required
Location: Planetarium Theater
9:00- Participants Registration
9:00-11:00 Dome Feature Shows, Trailers and Clips
11:00-12:00 Live Performances for Digital Planetarium
Location: Meeting Room (limited for 60 people)
13:00-17:00 Session: Digital Planetarium Workshop
This session is limited 60 participants who applied to join on the registration
Location: Pub somewhere near Bubaigawara station
18:00-∞ Drink&Supper in Japanese style
Payment:
Early Registration (before August 31) 3,000 Yen
Registration 4,000Yen
Lunch Bentoh for two days (before August 31) 2,000Yen
Lunch Bentoh (before August 31) 1,000Yen
Dome Festa Banquet (before August 31) 6,000Yen
Dome Festa Hotel(Includes Breakfast)
Hotel Continental; http://www.hotel-continental.co.jp/
Reservation required before August 31 7,500Yen/night
Profile
Dr. James Sweitzer(Science Communications Consultants)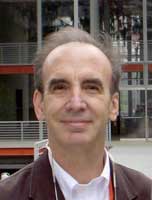 Jim Sweitzer brings over thirty-years experience at the forefront of science communications to his role as principal of Science Communications Consultants.
Educated at the University of Notre Dame (B.S. Physics, 1973) and the University of Chicago (Ph.D. Astrophysics, 1978), he began his career at the Adler Planetarium in Chicago where he served as Assistant Director.
In 1988, he joined the Center for Astrophysical Research in Antarctica,based at the University of Chicago. He made two trips to the South Poleas the Center's Assistant Director to oversee the construction of observatories in that outer space-like environment.
In 1996, he brought his combined experiences to the task of Director of Special Projects for the Rose Center for Earth and Space Science in New York City. In this position, he was responsible for the development and implementation of scientific content for the new facility, as well as acting as executive producer of its critically acclaimed inaugural space show, Passport to the Universe.
Returning to Chicago in 2002, Jim served as director of De Paul University's Space Science Center, acting as a liaison between NASA's Space Science missions and the educational communities of a seven-state Midwestern region.
In 2004, he launched his own science communications business, Science Communications Consultants.
Jim is a member of The Climate Project, trained by former Vice President Al Gore in 2007 and 2009. He is a strong advocate for raising awareness about the problems of global warming and educating for change.
He is also the author of a number of popular articles on astronomy for both adults and children and the winner of the Hughes-Griffith Observer Prize for Best Astronomical Essay. He served as science advisor for Scholastic Publishing's two series "Space University" and "Ultimate Space."
Jim is a member of the American Association for the Advancement of Science, the American Astronomical Society, the International Astronomical Union, the International Planetarium Society, and the Great Lakes Planetarium Association, with whom he is a fellow. The Mid-Atlantic, East Coast and Great Lakes Planetarium Associations honored him with the Armand Spitz/Margaret Noble Award for planetarium leadership in 2007.
Dr. Carter Emmart(American Museum of Natural History)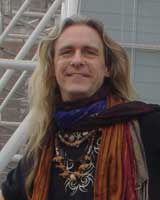 Carter Emmart is the Director of Astrovisualization at the Rose Center for Earth and Space at the American Museum of Natural History, in New York City. He directs space show productions based on immersive data visualization for the Hayden Planetarium within the Rose Center. Carter oversees software development for interactive use of the 3D universe atlas known as the Digital Universe, which can now be networked between planetariums and classrooms worldwide. The Swedish company SCISS grew out of these efforts in a series of internships he hosted from Linkoping University.
Starting astronomy courses at the age of ten in the old Hayden, Carter grew up in a family of artists and got his BA in geophysics from the University of Colorado, and his doctorate from Linkoping University, Sweden. He has had careers in architectural modeling, technical illustration and science visualization at NASA Ames Research Center and the National Center for Atmospheric Research prior to joining the staff at AMNH.