Dome Festa : Exhibition booth area by co-sponsors
SHOCHIKU Co., Ltd.
display of Panel and props "Tenchi-Meisatsu"
September 15, 2012 Roadshow!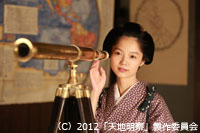 TENMADO KOBO CO., LTD./AstroArts Inc.
Demonstration of StellaDome-Pro by MoblePlanetarium
ASTRO DESIGN,Inc.
Super hi difinision video system
ORBYS Inc.
Seika Digital Image CORPORATION
Exhibition of 5K Cinema Camera
Konica Minolta Planetarium Co., Ltd.
ICAM CO.,LTD
Background of "Miracle Voyage with Micro"
D&D Pictures, INC.
EXPLORERS JAPAN , Ltd
AND You Inc.
The introduction of our Planetarium shows
KAGAKU NO TOBIRA PROJECT
GOTO INC
Redrover Japan Co., Ltd.
Mitaka in Stereo View & 3D Presentation Software True3DPT
NPO KWASAN ASTRO NETWORK
Kyoto Sennen Tenmongaku Kaido Tour and 3D-Mitaka with Stereoscopic 3D Monitor